Press
First tournament of the year
2021-01-20

–

Source: index.hu

content_en
"I think he is top 10 material; he gets what it takes." – Mats Wilander about Marci
2020-10-21
–
Source: eurosport.hosszabbitas.hu
Márton Fucsovics showed again what he can do at the US Open, I believe his goal is to try to be a consistent top 30 player - do you think that's a realistic goal?
I like that, I think he is limiting himself by putting himself as a top 30, I think he has way too good a technical and physical game than top 30, I think he's got top 10 material but that might put too much pressure on him to start to think like that.

I feel that Fucsovics can beat anyone at any time, he nearly beat Djokovic in the US Open last year, he is good, he's really good so I think the danger for him is that he doesn't need to be top 10 but he would be comfortable at top 30 and that's obviously a great achievement but it sometimes limits your possibilities mentally when your ambition is to put the goals too low.
Other Eurosport expert John McEnroe is answering the question from a different point of view. He explained in what ways should Marci develop in order to reach the desired goals: " He has impeccable physique and for now he is a quiet experienced player, he learned what it takes to win a match, how to add extra details to his game. In order to stuck in the Top 30 he has to follow the same path, by now he already is a stable player, and as much as I can see his peers respect him, which can add some advantage also. - explained the 7-time Grand Slam champion American ex-player.
The next dimension can be to fully utilize his aggressive and more direct style. – McEnroe added. " When you reach a certain level you can not just sit back and continue the same. You have to add extra features to your game. Marci needs to attack more, as he is the kind of player who is harder to beat in 3-won-sets matches and that can mean some bigger Grand-Slam successes.
"The Ironman of tennis: why Fucsovics is the tennis' most underrated player"
2020-10-05
–
Source: atptour.com, eurosport.hosszabitas.hu
He got excited recalling his first five-set win at a Grand Slam, which came over four hours and 50 minutes at this year's US Open against Grigor Dimitrov.
"It gives a lot of confidence for me that I have the feeling that these guys really have to beat me and it's not going to be easy for them," Fucsovics said. "If they have a good day and everything is working for them, of course, they can kill me on the court. But I will be standing there and running around and fighting for every ball."
At the beginning of this year, Fucsovics believed he needed not just physical strength, but mental fortitude. That finally clicked into place when he earned what was the biggest win of his career against Denis Shapovalov in the first round of the Australian Open. Entering his Roland Garros opener against Daniil Medvedev, the Hungarian was 0-14 against Top 10 opposition.
"Before the match, I didn't have high expectations. I just wanted to enjoy Court Suzanne-Lenglen," Fucsovics said. "I said to myself, 'Just go on the court and enjoy the match. No expectations.' If I lost the match it wouldn't matter, the next one would come. I felt the ball very well. I was moving good, I was serving well. Everything was perfect."
Fucsovics beat Medvedev in four sets and he hasn't looked back. Against Rublev, he will try to reach his first Grand Slam quarter-final, more than a decade after becoming junior World No. 1. Either way, World No. 63 Fucsovics, who has reached a career-high No. 31, is now setting his sights high.
"Hopefully I can win this match and finally play a quarter-final in a Grand Slam," Fucsovics said. "But my dream is to be a Top 10 player one day."
Whenever he heads back to Hungary, Fucsovics says a majority of people will recognize him wherever he goes. He has come a long way from the boy just tagging along with his father to the tennis club.
"Sometimes I feel the pressure on me from my country or from my family or from my friends. But I'm 28 years old now and I can say I'm very proud of myself. I'm proud of my career," Fucsovics said. "Of course I don't want to stop here."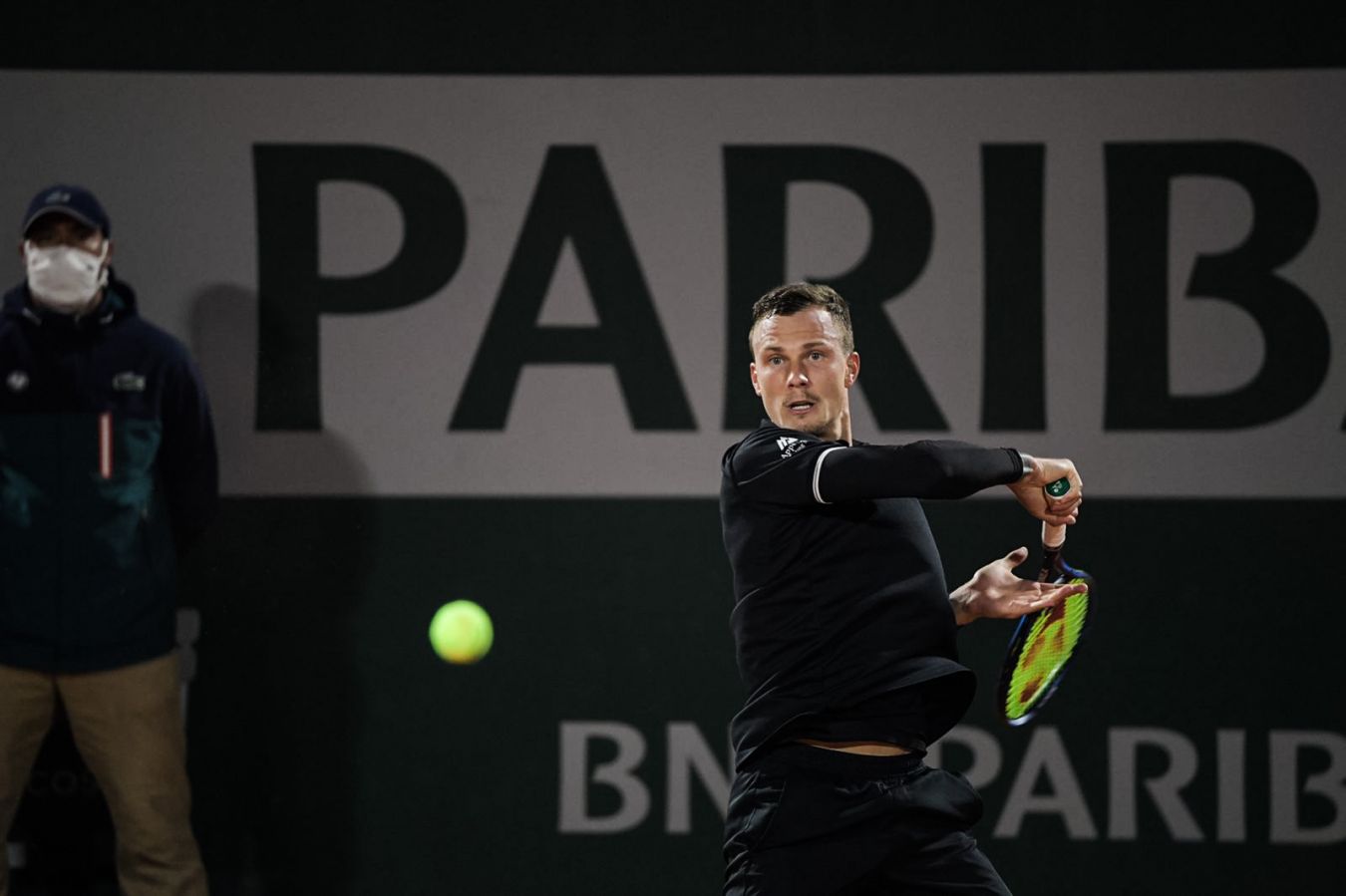 It's one of my biggest wins
2020-09-29
–
Source: nso.hu
I managed to succeed yesterday against Medvedev (4th seeded, 5th ranked), which meant my first yet victory against a top10 player in my career.
This is definitely one of my biggest successes, but my mindset is still unchanged, it was a first-round victory in the Roland Garros, now I focus on the next practice, on the following match...I'm trying not to overthink the situation and stay focused.
On Wednesday I continue against Ramos-Vinolas, today there is a doubles match waiting for me together with Cameron Norrie against the McDonald/Sandgren duo.
I hope the conditions will be better until Wednesday, as the temperature was pretty cold during our match under the moonlight.
Thank you everyone for the positive vibes!
Victory over the Belgians gets the Hungarian Davis-cup team to the world final
2020-03-07
–
Source: m4sport.hu, MTI
Márton Fucsovics defeated Ruben Bemelmans in three sets in the final match of the Hungary-Belgium tennis Davis Cup qualifier in Debrecen, so the Hungarians won the duel 3-2 and reached the world final in Madrid.
"We can be there in Madrid among the best teams in the world, it's unbelievable to say," Fucsovics told M4 Sport after the match, who said at the beginning of the interview that it would be very short as he wanted to celebrate with the team. "It's not only my success, it took the whole team"
Fucsovics added, he could win by playing persistently all the way, he served fantastically, he never lost his serves. "Throughout, only the Madrid final floated before my eyes."
"My first thought is that we will be there in the final, which is a huge achievement," exclaimed Márton Fucsovics happily on the field. - I remember in Szeged a few years ago we were fighting in the 3rd division and now we will be among the bests. Congratulations, it was a nice job and I hope everyone comes to Madrid. "he added.
The Hungarian national team will be able to compete with the best teams in the world in the 18-team Davis-Cup final in Madrid, where Croatia and Australia will be the group opponents of the Hungarians
Fucsovics continues his preparation with Hungarian coaches and aims the Top 50 in the ranking
2019-11-19
–
Source: m4sport.hu, MTI
Márton Fucsovics agreed with Miklós Jancsó and Zoltán Nagy to become part of his coaches team and start the new season together.
Marci – placed 70th in the ranking - announced his decision at a press conference on Tuesday.
"This year there were a lot of problems with the coaches, we broke up with Attila Sávolt, my previous French coach, Olivier Tauma,was not always able to escort me to the tournament and the communication was also not working perfectly." he told MTI. Márton Fucsovics, explaining that he wanted to start the year-end preparation with new coaches, to have time to get used to the new crew, and stipulated that he wanted to work with a Hungarian specialist.
"I have known Miklós Jancsó for a long time, he also worked with Ági Szávay, he is close to me personally as well. He also accompanied me to the tournament in Vienna in October, and I found that he can prepare me well and he is very motivating. Zoli has also known me since I was a small child, I like that he is a bit of a serious person himself, who lives his life in a systematic way, and I need that too,."said the 27-year-old tennis player, who first signed with the two coaches until March.
It was stated at the press conference that next year The path sports management and Tenisz Pro Kft., Led by György Joó, will take care of the player's management. The Path also manages hurdles runner Balázs Baji, swimmer Kristóf Milák, shot-putter Anita Márton.